Surge: Issue 1
Finding Charles House
Miracle Mozzee's two years in Charleston public housing living with mold, flooded floors, and pests left her desperate for change.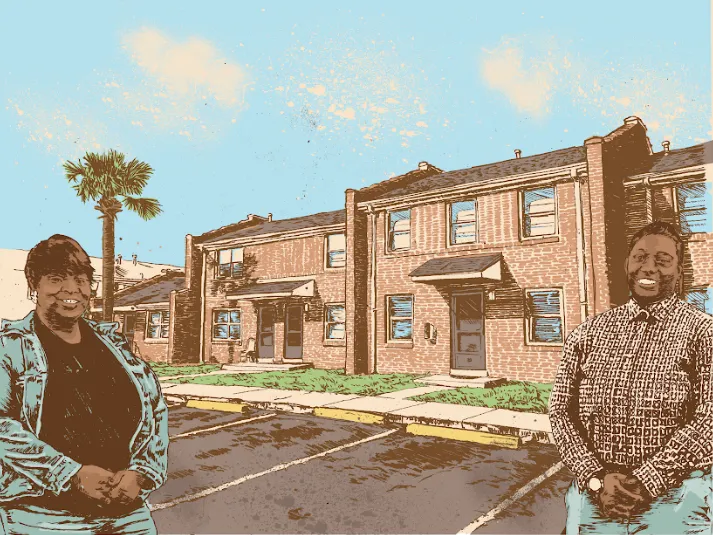 by Belvin Olasov
Black mold behind the walls. Flooded floors, every step on the tiles pushing up gray, cloudy water. Pests so rampant that even the freezer food isn't safe.
Miracle Mozzee's two years in Charleston public housing living with these conditions alongside her chronically ill, bedridden mother, Teresa Mozzee, had left her desperate for change. Charleston Housing Authority had delayed treatment, leaving both the mold and flooding to worsen. Their maintenance only superficially patched over the mold and swelling water. At various points, CHA left the mold exposed for 24 hours and pumped bleach in the air vents, temporarily blinding Teresa.
"All I wanted was a safe place for my mom," Miracle said.
At her wit's end, Miracle contacted Rep. Wendell Guillard, who reached out to CHA President Don Cameron. Cameron refused to put Miracle and her mom in safe alternate housing. Then, the press got involved – Miracle's story was on ABC News every night at 6. Cameron gave an interview claiming he'd never heard of such problems in CHA, that there's no mold, that Miracle was being dramatic and dishonest.
It was then, after breaking down and crying in the car, that Miracle looked at her best friend, mold remediator Makayla McCollin, and said: "No. We ain't the only ones." They printed up a flyer and went door-to-door to other public housing residents. They found that they were right – issues with mold, pests, flooding, and decay were absolutely everywhere. That's when public housing tenant advocacy group Charles House was formed.
Since then, they've worked ceaselessly on building Charles House into a force for good in public housing residents' lives. Sometimes that means mutual aid, with food drives and direct responses to issues. They can buy a tenant being threatened with eviction extra time by requesting a jury trial; they can get a pregnant tenant dealing with a broken AC system in extreme heat an AC unit for the weekend.
They've also been building their case on housing's issue with both anecdotal and statistical evidence. Through an environmental justice survey collaboration with Charleston Climate Coalition, they found that 62% of surveyed residents reported a negative impact on their health and wellbeing from their housing; 60% reported a maintenance issue, with 33% reporting mold; and 46% had issues with CHA's unwillingness or inability to fix problems.
"Some of these apartments even have lead. There's been a few parents that reach out and say their kids got tested for lead, and it was positive," Miracle said.
Charles House ultimately aims to become a tenant union in order to unite public housing residents and negotiate from a place of power. Due to a fear of reprisal from CHA, many residents are reluctant to speak up.
"A lot of the tenants that we came across with Charles House, it's like: 'I've been homeless before,' or 'I've seen what other people go through,' so I'll just take what I got regardless because it's supposed to be like this. Because at the end of the day, I don't have no other option, whether it's right or wrong. This is my only option. This is my kids' only option. So I'll settle," Makayla said.
Through her still-continuing housing debacle, Miracle developed lupus, had her possessions improperly stored and broken by CHA, and couldn't keep her job as a teacher. The Charles
House work kept her going.
"It was my peace... I didn't have any type of positive outlet besides working with the community. I found myself waking up, ready to go talk to people. I was depressed. I wasn't in the mood to talk to anybody," Miracle said. "But they made me want to. They say, we needed this. We need somebody to do this for us."
"Miracle will ignore the fact that her feet may be hurting from the time she wakes up, and she'll go out and help me hand out 500 flyers, just because, hey – these people need a voice. I'm not gonna let nobody be in the situation that I was in," Makayla said.
The climate crisis will worsen all the environmental justice issues public housing tenants face – rising seas and worse weather events will make flooding and mold an even more dire issue. But the unsafe, decaying status quo of Charleston public housing has an answer in Charles House.