Surge: Issue 4
Take Action For Climate: Fixing Unbalanced Systems in the Lowcountry
Inbalanced systems exacerbate the climate crisis. This list of challenges and solutions is a jumping off point to get involved with climate activism in Charleston, SC.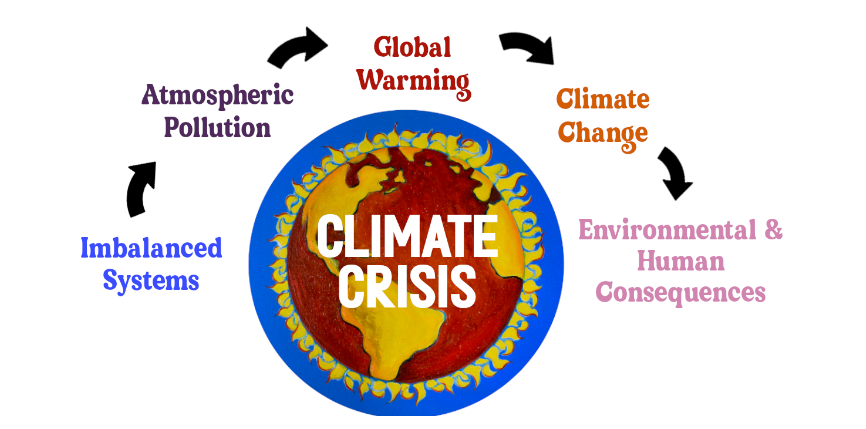 Buildings
Climate challenges
Production – new buildings create emissions through the mining and logging of materials, the manufacturing of concrete, and the installation
Energy usage – buildings are like cars that constantly idle, constantly using energy for lighting, heating/AC, water systems, etc.
Solutions
Build with green materials like adobe or hempcrete
  [Action item: green building incentives in local towns and cities!]
Weatherize and retrofit buildings to be more energy efficient
  [Action item: fund local weatherization initiatives!]
Transportation

Climate challenges
Car usage drives climate pollution by burning fossil fuels.
Solutions
Improve our bus system to make their routes more frequent and comprehensive
 [Action item: push for funding increase from BCDCOG (Berkeley Charleston  Dorchester Council of Governments)!]
Improve walk & bike options
 [Action item: connect bike lanes across the Lowcountry!]
Electrify vehicles
 [Action item: push for EV infrastructure from municipal & county  governments!]
Waste
Climate challenges:
Production of goods means consumption that expends resources and energy – especially plastic, a petroleum product
Disposal of waste leads to landfills that leak methane, a potent greenhouse gas.
Solutions
Lower plastic consumption
[Action item: pass further plastic restrictions in municipal & county governments!]
Lower general consumption
[Action item: support local circular economy businesses!]
Increase composting of food waste
[Action item: expand successful City of Charleston compost dropoff program to surrounding municipalities!]
Nature
Climate challenges
Natural resources need to be protected and expanded in order for their carbon-absorbing properties to help draw down the climate crisis.
Solutions
Protect and take care of marshes and wetlands.
[Action item: perform marsh stewardship with groups like the MARSH Project, Charleston Waterkeepers, Charleston Surfrider, or Sustainability Institute]
Reform development practices to ensure
[Action item: put marsh conservation and marsh migration requirements into local zoning codes!]
Plant trees!
[Action item: plant trees!]
Food
Climate challenges
Factory farming creates incredible amounts of climate pollution, which we can reduce by lowering meat consumption and sourcing locally.
Solutions
Reduce the amount of meat we're eating weekly.
[Action item: work with restaurants to support vegan options!]
Reduce food waste by diverting meals to hungry folks.
[Action item: support local nonprofits that distribute donated prepared food!]
Buy your food from local farms and grow your own.
Energy
Climate challenges
Fossil fuel energy sources like coal and fracked gas are the primary driver of the climate crisis. We must transition towards green energy to ultimately reverse the climate crisis.
Solutions
Reform our monopoly utility, Dominion, to focus on solar and wind over gas
[Action item: get SC legislature and the Public Service Commission to oppose gas expansion!]
Install solar
[Action item: accelerate municipal & county government adoption of solar panels!]