Surge: Issue 2
Bespoke Community Resiliency in the Face of Climate Change
Get Lit, Stay Lit is an intiative developing resilient communities in New Orleans, Louisiana.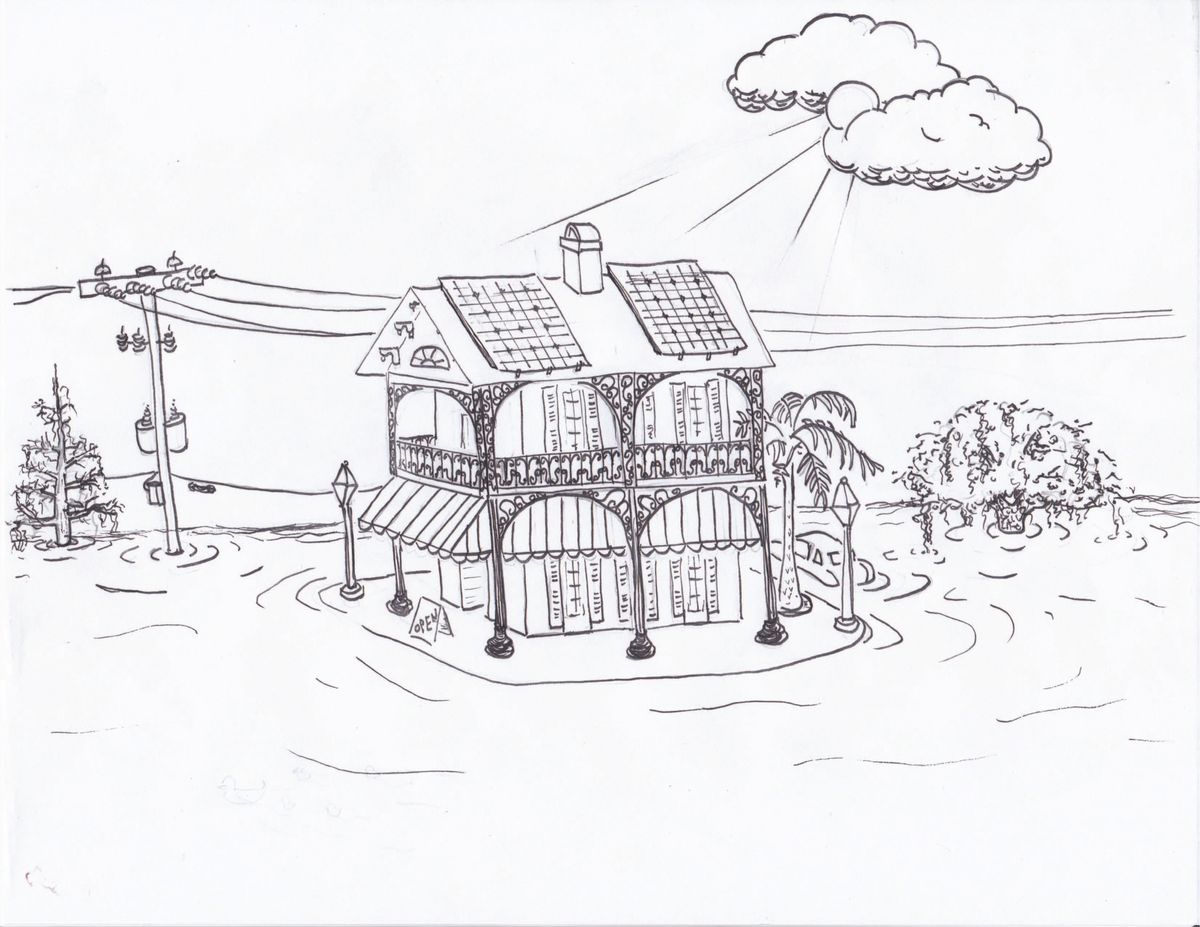 by Tim Cohen
In late August 2021, Hurricane Ida descended upon Southeastern Louisiana devastating many smaller communities and pummeling New Orleans. While the levees rebuilt in the wake of Hurricane Katrina held up against Hurricane Ida's onslaught, the city lost power for more than a week as temperatures soared, leaving residents exposed to the elements.
In one neighborhood, however, New Orleans-based artist and community organizer, Devin de Wulf, who is himself a native of Charleston was prepared for the moment, having previously installed solar panels and two batteries at his home in Bywater. As a result, neighbors were able to charge cell phones, plug in refrigerators, and power oxygen tanks while others died of heat exhaustion or struggled to find adequate supplies of food across the city.
Out of this crisis, an idea was born. What if, instead of single houses, a network of businesses, especially restaurants, were outfitted with solar panels and batteries across the city? That idea grew into an initiative that de Wulf and fellow organizers called "Get Lit, Stay Lit". This de-centralized network of solar-powered resilient restaurants, or "Stay Lits" as they refer to them, will be first responders for vulnerable communities increasingly affected by climate change.
Q.  How would you describe the Get Lit, Stay Lit initiative to someone who has never heard of it previously?
A. The idea is to get solar panels and batteries for local restaurants — so that a restaurant can become the first-responder for their community in the aftermath of a major hurricane. Instead of losing thousands of dollars in food-waste because the power is out (which creates methane). If the restaurant has solar and batteries it becomes a micro-grid. The restaurant can then feed their community. They can become cooling centers, cell-phone charging stations, food centers, and much more for their neighborhood. This helps with supply chains, job interruptions, saves methane, saves money. One restaurant can have a big impact on their neighbors. Now imagine 100 of those around a city...or 200...or 500. That's a solution for the next hurricane (because we know they are coming).
Q. What is your vision for the Get Lit, Stay Lit campaign in the near, medium, and long term?
A. I am trying to get the idea out into the world now. Soon we will install our first "Stay Lit." We will keep working to raise funds and awareness to create more "Stay Lits" and share the idea. Long term, this is something that a local, state, or federal government should fund.
Q. In an ideal world, what would you view to be a "success" for the campaign?
A. We know hurricanes are coming – and getting stronger. And we basically know what items and services are needed immediately after a hurricane: food, ice, cell phone charging stations,  tarps, debris removal. A "Stay Lit" restaurant would solve three of these five problems. So to me, success would be getting these all over the place – wherever there are hurricanes.
This would also help each community become more resilient and really help locals lead recovery efforts. The truth is no one cares about your community as much as you do!
Q. How does funding work for the campaign?
A. I think to start, it takes grassroots fundraising. That's what we are doing in NOLA (New Orleans, Louisiana) with my non-profit, Feed The Second Line. We will also start recruiting restaurants to create round-up campaigns that could generate small amounts that could quickly add up. Each restaurant will cost around $60,000 –  24% of that gets immediately paid back in the form of a federal tax credit for solar. That would be around $14,000 for the next project. Then we ask restaurants with solar to contribute $200 a month, which comes from their energy savings, back into the program. This isn't a big deal with one restaurant, but with 300 restaurants that could create enough funding for a new project each month.
Q. What about strategy for community education?
A. Each restaurant could also become a great place to advertise the program – educating the community.
Q. What lessons have you learned about leading this initiative? I'd be very curious to know more about response – how have people responded?
A. People are interested in the idea - the hard part is actually doing it! Things move slowly, but you have to start somewhere and just try your best I believe. Even getting the idea out in the air is good.
Q. What has surprised you the most while creating and launching this initiative?
A. Many people don't understand the potential of solar panels + batteries. They are so much better than relying on a gas-powered generator (which can often kill people). It is a cost up front for sure - but something that will last years and save communities from other costs: all the wasted food, bringing in ice and food from afar, having to evacuate elders after a major storm, etc. We don't really consider all the potential savings - which make solar and batteries a smart choice for coastal living.
Q. What similarities do you see between New Orleans and Charleston? Do you have any advice for other activists looking to create their own climate resilience initiatives in Charleston or other areas of the Lowcountry based upon your experience?
A. Both cities have a very strong restaurant scene. Residents working with local restaurants could easily fund this idea. It just takes work organizing it and recruiting small donors. But no one will do it for us. Gotta start somewhere.