Surge: Issue 1
Climate Alliances: Sightsee & Heron Farms
Sightsee Coffee and Heron Farms are two members of the Charleston Climate Coalition's Climate Alliance.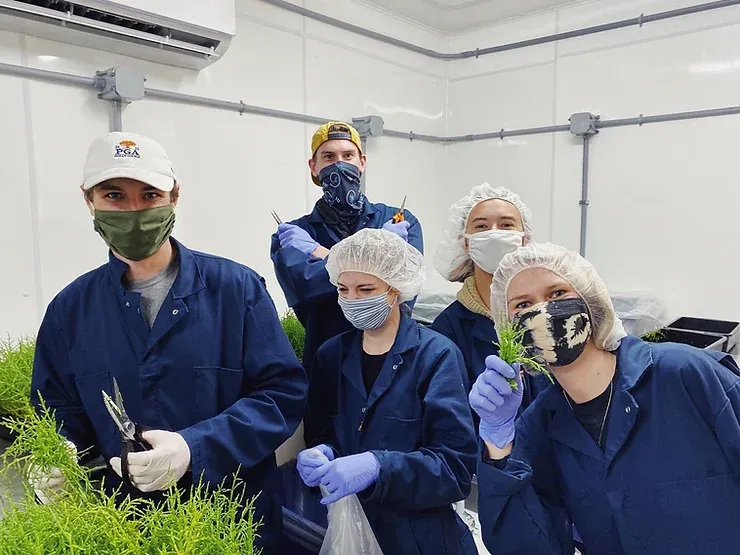 by Alison Craig & Belvin Olasov
What do a Vertical Roots farmer, a Mamasita cloth diaper entrepreneur, a sous chef at Butcher and Bee, and a killer cappuccino barista at The Daily have in common? Their work is all connected to the climate crisis in one way or another – and now, they're a part of the climate movement.
Since January 2021, the Charleston Climate Coalition has been forming Climate Alliances to spread the climate movement across the Lowcountry – a network of businesses, organizations, groups, and individuals implementing climate-friendly practices and adding their voice to the chorus demanding substantive climate action. Each Climate Alliance – Lowcountry Farms, Restaurants, Green Businesses, and Coffee Shops for Climate Action, with Clothing Shops and Wellness Groups launching soon – have their own suite of actions to take, from vegan options at restaurants to compostable and reusable containers at coffee shops. When it comes time to rally behind a big campaign, like the Charleston County Climate Action Plan, the alliances are on-hand to drum up support.
Sightsee


Sightsee founders Joel Sadler and Allyson Sutton take their shop's role as a community hub seriously. At their coffeehouse and retail store on the corner of Line St. and Rose Ln. in downtown Charleston, selling locally roasted Springbok coffee and a curated collection of retail goods from ethical brands across the world is only part of what they do. They also regularly share calls to action for racial justice, criminal justice reform, economic empowerment, and the LGBTQ+ community through their social media, newsletter, and website. When there's a need to mobilize for a Charleston City Council meeting, you'll often hear about it through Sightsee.
"Charleston wouldn't exist without Black people. Full stop. Yet systemic racism (from education to policing to housing affordability) has led to countless inequities toward and displacement of the exact community that built our city," Joel and Allyson said. "If we can create a welcoming, friendly, open-minded space both at our physical shop and in our online presence, and if that welcoming vibe opens someone's eyes to injustice or inspires someone to call their City Council member, then it's a step in the right direction."
All of Sightsee's cups, lids, and straws are compostable, and they also compost all of their coffee grounds, filters, paper towels, and any other compostable waste generated at the shop on a daily basis. That enables them to divert at least 16 gallons of waste this way each week. They also try to reuse containers when packaging and do their best to source eco-friendly shirts/sweatshirts and screen print locally using water-based inks.
"We feel particularly passionate about implementing climate-friendly practices because climate change has a tremendous negative impact on the coffee industry," they said. "Coffee producers are constantly faced with the challenges of farming in increasingly volatile conditions; not to mention they have to factor in water use and land access and a plethora of other environmental-related issues daily. We'd find it very hypocritical to operate a coffee shop in a way that would only further exacerbate these problems for coffee farmers."
Heron Farms
The climate crisis is only going to send more saltwater to our doorsteps. Heron Farms, the world's first indoor vertical saltwater farm, aims to leverage that sea level rise and excess carbon dioxide to produce sea beans, create a sustainable agricultural system, and restore marshland while they do it.
Founded by Isle of Palms native Sam Norton, Heron Farms was launched in 2020. Norton was inspired by the challenge of growing food without fresh water, and knew the sea beans from his childhood. If you've never tried a sea bean, Sam describes it as "biting into the ocean." Sea beans aren't legumes but succulents, often used as a plant-based salt alternative. To grow these plants, Heron Farms employs predictive software and automated data collection and analysis methods to manage parameters including water salinity, carbon dioxide, growth cycles, and yield.
A key facet of their operations is marshland restoration. For each pound of sea beans sold, they restore a square foot of marshland. They partner with local businesses like Dalai Sofia, Westbrook Brewing, and Charles Towne Fermentory on co-branded products and then restore a square foot of marshland for each product sold. Thus far, they've been able to restore an acre of marshland in both Charleston and Bangladesh.
Restoration of salt marshes is a critical climate action. They don't just act as nurseries for marine organisms and provide habitat for many migratory bird species – they're also excellent at sequestering carbon dioxide. Salt marshes are decreasing each year as dredging and coastal development threaten these essential ecosystems. Locally, the disposal of dredged material from the Charleston Harbor and surrounding waterways has displaced over 3,000 acres of tidal saltmarsh. Efforts to restore these areas using the traditional greenhouse-to-transplant approach are expensive and ineffective; to combat these challenges, Heron Farms utilizes an unmanned aerial vehicle delivering a seed payload at a lower cost.
As a leader in innovative, sustainable agriculture, Heron Farms inspires us to challenge ourselves with imagining creative solutions to the climate crisis.