Surge: Issue 2
Surge 2: A Letter from the Editors
Co-Editors in Chief Belvin Olasov and Sydney Bollinger introduce Surge - Issue 2 (released August 2022).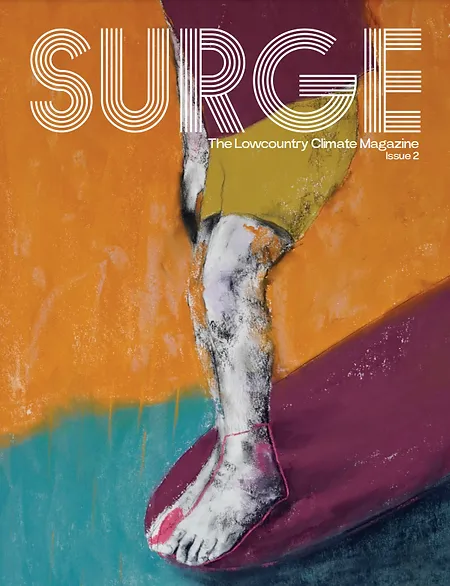 If it seems like the climate crisis is at the forefront of our minds, that's because it is. Even since the release of Surge: The Lowcountry Climate Magazine (Issue 1), devastation has been on the world stage. From the historic flooding in Yellowstone National Park to record-hot days in June and the European heat wave in July, there's no escaping the havoc the climate crisis is wreaking on our lives day in and day out.
The uptick in disasters has led to more stories about the climate crisis and more people sharing their individual experiences with the impacts of what we're fighting against. Climate change focused documentaries are premiering at Tribeca Film Festival and other massive celebrations of film and art; authors from across the globe are diving into climate fiction and solarpunk; and we're putting this magazine together with folks from the Lowcountry to better understand what's happening and what action we can take in our community.
The first issue of Surge was a labor of love — but also a test. We had no idea how the community would react to our magazine and were floored when the magazines became such a hot commodity we had to do a second print run! To us, this means the need for climate communication in the Lowcountry is high — and communication isn't just sharing news and updates about action.
Communication is using stories to build community, to celebrate the wonder of the world through art and poetry, and to find spaces of rest and wellness in the midst of activism's toiling work.
In these pages you'll find more information about Gadsden Creek and the work Friends of Gadsden Creek is doing to save this culturally and environmentally important waterway from being filled and developed over. Phoebe Crouse reminds us that activists need healing and rest, too. We are so grateful to our writers and artists for their work on issue 2 of Surge.
We hope you enjoy the writings and artwork of your Lowcountry community.
Love,
Belvin & Sydney
Editorial Staff

Belvin Olasov, Co-Editor in Chief
Belvin helped found the Charleston Climate Coalition when he saw empty space where a Lowcountry climate movement should be. Today, he serves as CCC co-director. He comes from a background in creative writing and tries to bring that vision-making to climate work. He grew up on the Isle of Palms, and looks forward to the day when he no longer fears for the future of the beach.

Sydney Bollinger, Co-Editor in Chief
Sydney Bollinger (she/her) is a Charleston-based arts & entertainment and climate writer. She has written for Charleston City Paper, INTO, Film Cred, Filmmakers Without Cameras, and other places. Her creative work can be found in HASH Journal, Dunes Review, among other literary outlets. Find her online @sydboll.

Camela Guevara, Art Director
Camela Guevara (she/her) is a multidisciplinary artist and designer living and working in Charleston. She creates handmade monuments to unsung labor. Her practice explores the intersection of art, craft, and fashion, and her work embodies a sense of pleasure and reverence for the labor of sewing. She offers a joyful alternative path of homemade fashion that honors the many skilled hands that clothe us. See her work @camelaguevara
Issue 2 Copyeditors
Tim Cohen
Eli Bundy
Hailey Williams
Thank You to Our Sponsors!
Founding Sponsor
Mic Smith Photography
Read the Mic Smith Photography Sponsor Profile.
Gold Level Sponsor
Silver Level Sponsor